STONEY CREEK ONE BASE 2019 – ROUND UP!
Who could have picked 2019 was going to be such a boomer.  Its takes a little bit of everything for an event to come together to be great.  Good anglers, some good fish,  a bit of nice weather, supportive sponsors, you need a good team behind the scenes, a good tournament radio operator but most of all you need a bit of luck!  This One Base and our 30th Anniversary year we got a bit of luck and all the other elements came together in what turned many are calling one of the best One Base Tournaments in recent times.
This year with the wild card anglers the One Base hosted 115 teams comprised of 407 anglers everyone leaving the Tauranga entrance on Wednesday 6th March in what was a spectacular shotgun start. The four day forecast looked really settled apart from a spike on the Friday afternoon which was actually "bang on" so at least this forecasting allowed the teams to make plans to stay safe.
The first day set the scene well with Fascination 2 tagging and releasing a striped marlin as did Crank later on in the day.  Young junior Angler Tom Fowler did exceptionally well landing a very respectable 19.3kg kingfish giving him the 'first junior to weigh an eligible fish award', while Neil Beattie weighed in what turned out to be the heaviest snapper for the event at 10.26kg.  The team on Bar Tender had the "midas touch" after winning the team beverage crate proceeded on day one to catch and weigh the comps first marlin with a 210.9kg Blue Marlin out of the Stoney Creek grid.  Angler Brad Pedersen later when on to win the Shimano Raffle taking home Shimano electric reel, as well as owner Steve Prole picking up second place in the striped marlin section with a 142kg fish.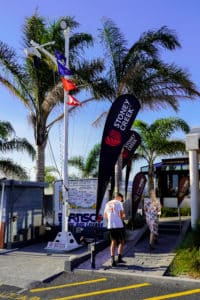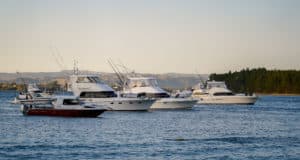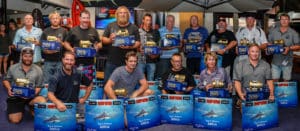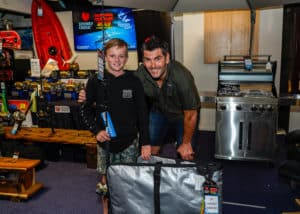 Day two results were busy with the 'after 6pm' weigh station activity the evening before.  Strangely the marlin just got bigger into the night!  A 140.5kg Blue Marlin for Jason Eynon on Sundance Kid, then a wonderful 226.7kg blue marlin to Ian Thomas on Cobra, with festivities topped off with a whopping 300.2kg Blue Marlin to Adam Milnes off the boat Black Label, this one carrying through to be the biggest gamefish for this year's One Base.  Adam backed his marlin up with a beautiful 41.2kg Yellowfin Tuna both caught out of Furuno Blue Beam grid, this fish taking first place in the Tuna section.
Kristen Zaloumis managed a nice 110.35kg Striped Marlin for their boat Outer Limits, awarding Kristen the Heaviest Fish caught by a Lady Angler in the One Base.  Okura 2 also made weigh in and once again did well in the kingie section placing Butch Waterhouse in first place in the kingie section with a 20.82kg fish and team mate Kerry Clark taking out both first and second in the measure section.  In the longest Snapper section Tony Wood took out the competition with a 79cm moocher, with Aidan Brown doing really well in second with a 72cm.
Day Three and the teams hunkered down in preparation for the wind which seemed to hit the teams down east a little earlier.  Mahimahi from both Sansparel and Riba caught the day before arrived in, the biggest a lovely 13.52kg fish for John Mertrom.  Draydon Layne fought, landed and weighed a beauty short billed spearfish of 23.7kg that managed to hold off the others for first place in the Spearfish category as well as giving him the heaviest fish for a junior.  A real bonus to this catch is the Spearfish is a pending junior record for 60kg and pending NZ Record!  Another solid fish was the 23.7kg Albacore caught by Kevin Houlton on Forte, this one narrowly missing being another Club record.  Congrats to the In Pursuit team weighing a fine 126.7kg Stripey, but unfortunately were eclipsed when the winning 171.6kg Striped Marlin was weighed by Brent Hogg off Valhalla, this fish taking first place in the NZ Heaviest list for the season to date, and for the One Base it was fittingly the winning Striped Marlin!  Great fish guys! Well done also the team off Fascination 2 weighing in a beutiful 226kg Blue marlin as well as tagging two other and t&r spearfish to give them champion boat for 2019!
Day Four being a shorter day still had plenty of action on the radio.  Bar Tender manged their last minute 142kg Striped Marlin, and Nora threatened the Spearfish category with a nice 21.3kg fish, while Ryan Kahn weighed in his solid 192.9kg Blue Marlin off Ocean Pacific unfortunately not even making the top three!  Of course all the tag and release marlin paperwork came through totalling 16 TnR marlin (5 of which were Blues) all of these anglers receiving a gold Tiagra 50W thanks to Bay Insurance Brokers.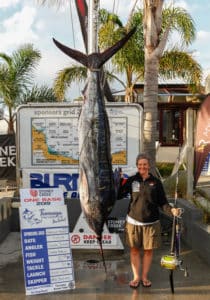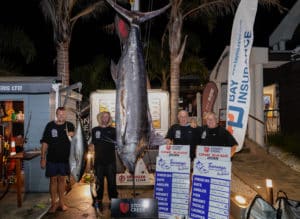 It was a solid four days of competition with good weather and some world class fish and home for some of the best fisherman in New Zealand here competing.  In short this year was nothing short of magical!  Thank you to all of our sponsors and supporters, thank you to out TSFC team here and last but certainly not least a massive thankyou to Deryk for a wonderful job over VHF Ch 3 for the four days.  SEE YOU ALL NEXT YEAR!