Welcome to the
Tauranga Sport Fishing Club Inc.
PLEASE NOTE THE CLUB IS CURRENTLY CLOSED AND WE HAVE USED THE LOCKDOWN PERIOD TO UNDERTAKE A RENOVATION THANKS TO THE VERY GENEROUS SPONSORSHIP FROM

PAK'n SAVE TAURANGA

,

GLASS ART

,

HIGHER SAFE NZ

,

GERRAND FLOORINGS

,

BRUSH CRAFT DECORATORS

. WE LOOK FORWARD TO ANNOUNCING OUR OPENING IN THE COMING DAYS. STAY SAFE & WE LOOK FORWARD TO SEEING YOU ALL AS SOON AS POSSIBLE!
Ideally located at Sulphur Point Marina, and in close proximity to the Tauranga Harbour entrance, our Club offers a wonderful relaxing atmosphere with a popular restaurant, panoramic viewing decks, pool table, large screen TV, bar facilities, gaming and great friendly camaraderie.
The coastline offers World Class fishing for marlin, tuna and kingfish – with mahi mahi, shortbilled spearfish and broadbill captured from time to time. Our close proximity to Mayor Island lends itself to great billfish and big game fishing for those venturing out wide where anglers experience the thrill of the migratory game fish that abound this coast during the summer months.
The club was formed in 1923 and currently has approximately 3000 members. The management and executive extend a very warm welcome to members, affiliated members and guests. We encourage families and look forward to seeing you all at the Club.
Tight lines from the Crew.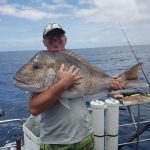 2020 LEVEL THREE LOCKDOWN TOURNAMENT RESULTS Its been an interesting ol time alright! As
Here's some cool YouTube videos in Tauranga