OMOKOROA ITM BILLFISH BONANZA 2019 REPORT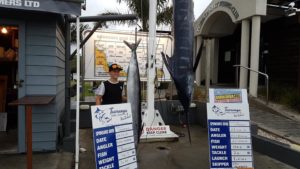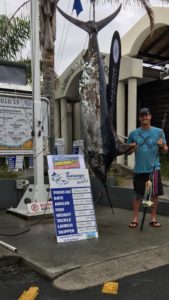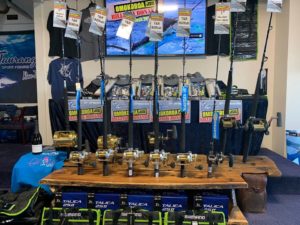 It was fantastic this year to have what looked like a brand new naming sponsor for this year's Billfish Bonanza with Omokoroa ITM coming aboard.  In fact it's the same Oregon ITM group that incorporates the Mount ITM that leant their support to last year's event, so again we have been privileged to receive such wonderful backing for what is our last blue water event for the summer.
This year the forecast looked outstanding and although it didn't live up to its promise, the weather didn't seem to dampen the enthusiasm of the 139 anglers that turned up this year. With about 10 boats deciding to take the starboard turn out the entrance and take the long trip towards the eastern BOP. The rest of the teams seemed to concentrate their efforts on the High Duty Plastics, Port of Tauranga and Tarpaulin Makers grids that had all been producing very large striped marlin prior to the tournament.
Thanks to Shimano NZ the prize stage was looking packed with a wide range of high end shimano rods and reels including 5 Talica 25 combos for the tag and release billfish prizes, again encouraging those on the water to be tagging their fish.
Over the three days six striped marlin were tagged, many lost and seven marlin weighed in at the Club.  For a couple of anglers this was their first marlin and a bucket-list moment! A special mention to Tony and Aidan Brown realising the dream of a first marlin for Lee Lawson after 10 years on his boat Monaco!
The day one action really belonged to one angler being Karl Boielle off the trailer boat Happy Hour.  On a day that Karl couldn't convince any of his mates to take a day off work, and determined not to miss a day on the water and ended up fishing solo. By mid-morning across the radio came "Happy Hour hooked up" not long after the message that Karl had just tagged a striped marlin.  We didn't need to wait much longer before we heard "Happy Hour hooked up" again, and yes the result was another tagged striped marlin. In the last few hours of daylight Karl was trolling home reflecting on a great day when "bang" a strike on the short corner, this time a Blue Marlin!  What an amazing day!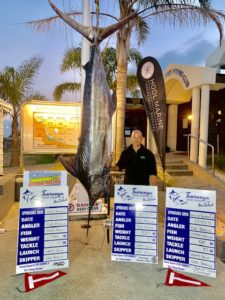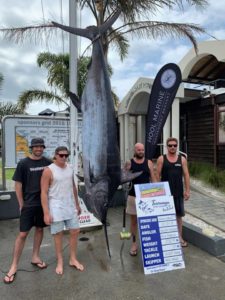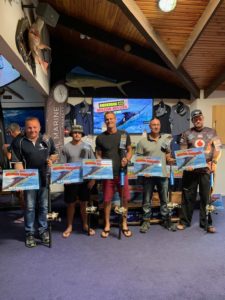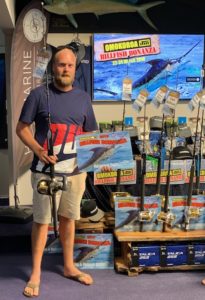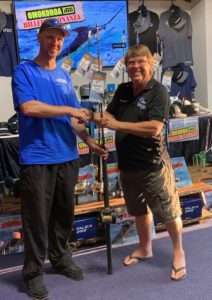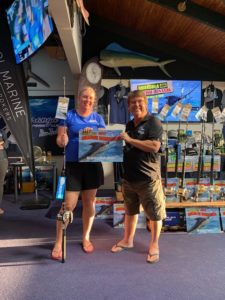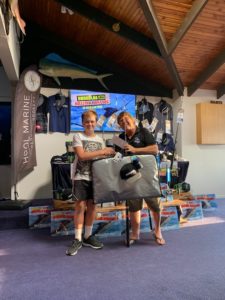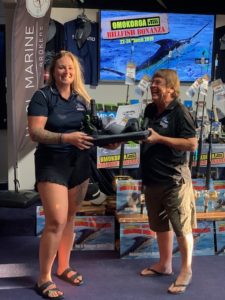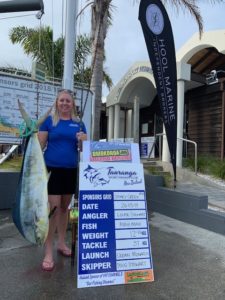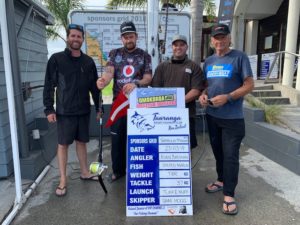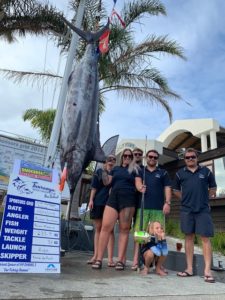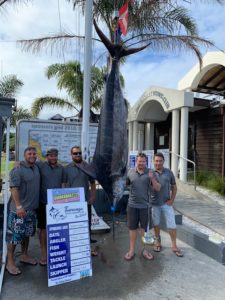 The winning fish this year came off the trailer boat Night Mair with Wilson Crocker being one of the first time anglers, taking grand honours and 'first place heaviest billfish' with a mighty 250.4kg Blue Marlin.  The team on Night Mair had spent the night before sword fishing all night and were  a bit sleep deprived in the morning.  But it only took them five minutes of trolling before this massive Blue Marlin helped them shake off the morning fuzz.  A stubborn fish the fight lasting almost 4 hours!
The next biggest fish was another special Blue Marlin weighing 233.9kg to Alana Duncan off the boat Riba.  Alana's fish had died during the fight and she spent a gruelling 3.5hrs getting this fish back to the surface in stand up equipment, one heck of an effort that gained her the 'Heaviest fish for a lady angler and second heaviest billfish.  In third place was Mikey Lee's 181.3kg on board Fascination 2, a beautiful looking fish and a great way for the team to round of a very successful tournament season.
Some nice Mahimahi this year in the 11-12kg range this year with the largest going to Louise Stewart off Ocean Monarch with a 12.26kg hen taken from the Stoney Creek grid.  Another incredible highlight for the tournament was the absolute beast of a Shortbilled Spearfish weighing 34.5kg on 24kg by junior angler Ezra Keenan claiming first place in this shortbilled section. This one being a pending Club, New Zealand and World Record!
Thanks to all of our anglers, the lucky ones and not so lucky for fishing this wonderful event, also a big thankyou to Omokoroa ITM, Hool Marine, Petroluem Logistics, Glass Art and NZ Bayfisher!