2019 Hunting & Fishing Snapper Classic REPORT
First up it was awesome having Hunting & Fishing back on board this year, sponsoring the great H&F clothing and supplying the fancy kit from Diawa, Finnor and Coleman.
What wasn't so great, was the hard call around the dodgy weather (although it has to be expected this time of year!) So after a long look at the forecast for the 18th and 19th May we decided to pass it up! This was much to the horror of some anglers that had spied a glorious Saturday morning.   But this only gave us at best one day of fishing as Sunday was to be blown out, combine this with a full moon and it was all looking pretty average. But what grabbed or attention was a large high over Australia that was tracking our way!  That was enough to swing the 50/50 call, and as the week progress it was a huge relief to see the fine weather materialise for the 25th and 26th May.  Fortunately our anglers were looking at the same forecast, this mobilising 92 keen snapper fisherman into registration, this number up on the 76 the previous year.
After briefing many of the teams ripped straight into it, making a course for Mayor Motiti and the East Coast, with such settled weather and a small swell the fishing options were plentiful.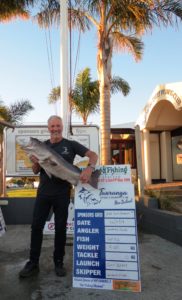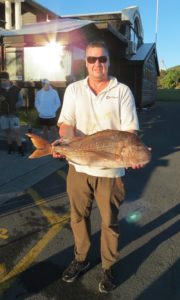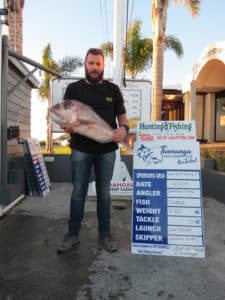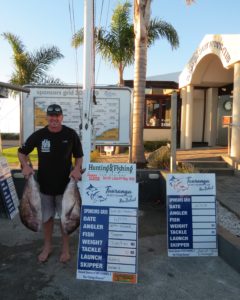 Day one and with little radio chit chat it was difficult to determine how everyone was doing and with only two teams weighing 2-3kg snapper at the weigh station the first day it was still pretty much a mystery as to what was being caught.  In actual fact the weather was simply so good it was understandable that teams didn't return on Saturday as fishing the change of light "bite" was a much better option!
Sunday, day two of the vent and we were blessed with another stunner.  A few of the teams had already reported a good evening and morning bite so it was clear there were to be some nice fish coming in.  The weigh station opened at 3pm and was kindly manned by Lee and Deryk was steady for the whole two hours as teams checked in with their catches.  A few wreck-fish were recorded, some respectable terakihi and plenty of really good Snapper.  Clearly most anglers were just weighing there good ones as the average over the 47 fish weighed ended up at a respectable 3.827kg and by chance Rebecca Burman fishing on Riba was closest winning the average weight prize!
Junior Kaesharn Hedgeman had a great comp winning 3rd heaviest Tarahihi, 3rd heaviest wreckfish and taking out the heaviest fish for a junior with his 7.605kg bluenose.  The biggest wreck fish for the comp was a nice 16.1kg bass, while the largest Tarakihi 1.485kg to Jeff Davenport caught out of High Duty Plastics sponsors grid.
On the Snapper scene, we had some crackers coming through the weigh station with the top 4 all over 7kg. The winning heaviest fish was caught by Takawai Edwards with a 9.005kg Snapper on his boat MARLIN out of the Champness Roofing grid.  In the measure and release snapper section, the father and son team of Lawrence and Jonathon Flude on board Gulfseeker took out all three prizes with Snapper in-between 74.05-79.5cm.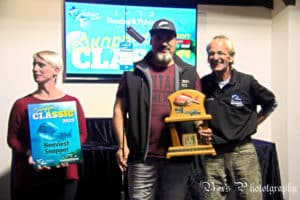 Thankyou again to Hunting & Fishing and to all of our anglers that enjoyed the snapper fishing over last weekend!  We hope to see you all back next year!