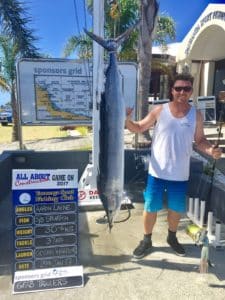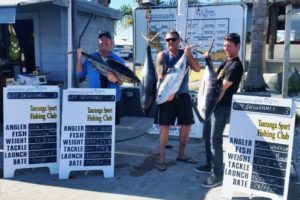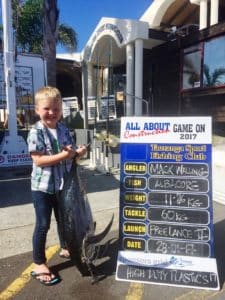 ALL ABOUT CONSTRUCTION GAME ON TOURNAMENT REPORT
The postponement on the 22-24th January turned out to be absolutely the right call as the weather that folded over the Bay of Plenty that weekend was truly awful.  The postponed sunday delivered 5 metre seas and 43 knots of Northerly that was hoped to drive in the warmer water that had been held off for weeks by the strong south westerlies.
Fast forward a week and the forecasted stationary High did its best to deliver on the promise of good weather for our new dates but fell short with winds offshore touching 20knots early Saturday morning and leaving many tucked in behind Mayor enjoying a longer than usual breakfast. By midday the winds eased right up and the good weather rolled in letting all boats explore far and wide.
This year's GAME ON attracted 119 anglers, slightly down on last year. It looked like we lost a few teams to long weekend commitments, which just made the odds better for those that showed. Fantastic prizes from Shimano and Maui Ocean Products adorned the stage and with $10000 in cash pooled in the Calcutta it was Game On for anniversary weekend!
Andros, Sunkist, Jans Decision and Brothers in Arms all experienced the misfortune of dropping marlin that were desperately needed for the Calcutta Billfish points. Instead Aaron Layne who was fishing solo on Ocean Warrior managed a large 30.6kg Shortbilled Spearfish early on Sunday morning, this qualifying in the Billfish category for the Calcutta.  The hogs aboard Aquarius seem to have the midas touch running over a big school of Yellowfin tuna hooking and landing four!
Eventually no marlin would stick, so it was to be that the Ocean Warrior Spearfish would take out first place in the Calcutta. By default with no other billfish on the catch sheet the remaining places were to be determined by the next heaviest fish (between tuna and mahimahi). This was to be Brent Hoggs 23.9kg Yellowfin Tuna landing Team Aquarius second place. The next heaviest qualifying fish (over 10kg's) was to come off Jans Decision, a nice 11.74kg Albacore netting the guys 3rd prize.
The tough fishing did have an upside for those at prize giving with some big banger prizes being lucky drawn and numerous spot prizes lifting the spirits of those that received no love from the fishing gods over the past three days.
All in all this year's GAME ON was a great event and nice to have the glamour weather on the last day. The unseasonal cool surface water has largely kept the big pelagic fish out of reach so far this year and impacted this year's results.  Mind you a new s/b Spearfish 37kg Mens Club record for Aaron Layne was a cool highlight and with plenty of albacore still around no one went without a feed of fish.
A big shout out to our sponsors All About Construction (who have already signed up for next year!) Duncan Reality, Wet & Forget,  Maui Ocean Products and to Glass Art. Thanks again guys for your great support!
CHECK THE RESULTS HERE!RESULTS Game On2017