DECORO SNAPPER KINGFISH TOURNAMENT 2018 REPORT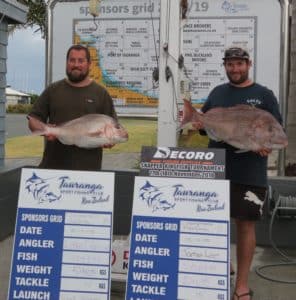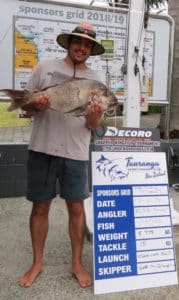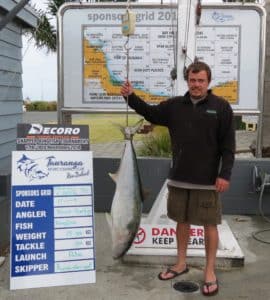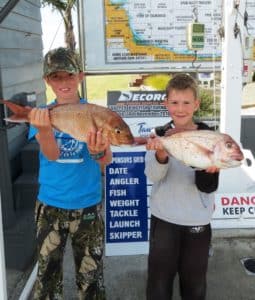 With the weather gods smiling on us for the weekend we were able to confidently call this years Snapper Kingfish tournament ON.  However those same weather gods played a sneaky hand by serving up close to 20 knots of wind on a variable 5 knot forecast for the first day.  With teams tucked away at Motiti, Mayor and White island the later part of Saturday, these northerlies sent many teams in early and forced the others to seek a bit of shelter. Sunday was much better and allowed the boats to spread out and with this came some stunning results with the hard work that was put in.
Overall the fishing reports varied considerably from team to team with many finding the coastal fishing tough over the sand.  This was in contrast to those teams targeting snapper over reef structure with reports of spectacular soft-baiting and solid snapper in the 40-60cm region both around Motiti and Mayor with Plate Island fishing pretty well also. It was so good to see more and more anglers releasing their Snapper and nice for our sponsors and us as organisers to know these events don't always need to impact heavily on local fish stocks to be regarded as a successful event.  The top three release Snapper were absolute beauties measuring 74, 75 and 76cm respectively with the winning fish going to Aidan Brown of In Pursuit.  In the weigh category there were only 15 fish weighed (versus 18 in the M&R!) With the best of these pulling the scales down to 10.695kg and caught by Jamie Lee fishing on Reel Heaven.
The kingfish fishing had been pretty good at Mayor and Schooner over the weekend, with anglers talking about how the top-water fishing had been hotting up and how much of the fishing had been extremely visual.  The flip side of this is the bronze whaler populations anecdotally looked to have increased with many hooked kingies this past weekend unfortunately falling to these veracious predators.  The longest kingie category this year went to Kyle Erikson fishing off Elevar (114cm) who not only picked up an incredible Accurate fishing combo but also took home the Dave Foley Memorial trophy.  Only 2 kingies weighed in versus 22 in the measure and release, with the biggest weighed being awarded to Jason Hamlyn fishing off Riba.
It was great to see so many of you back at the Club on Sunday for prize giving and enjoying the lucky draws and atmosphere.  Finally a massive thankyou to our sponsors namely Decoro, Rockgas Tauranga, NZ Bayfisher Magazine and Okuma NZ!