ALL ABOUT CONSTRUCTION
GAME ON TOURNAMENT REPORT 2019
The Game On Tournament was really well attended this year with 153 anglers up from 97 last year. Great to have All About Construction back on board thanks to Phil Eynon.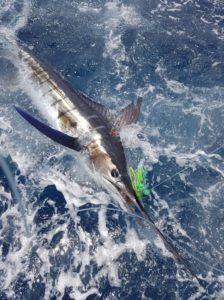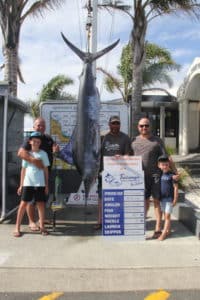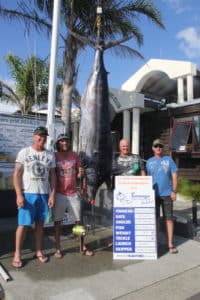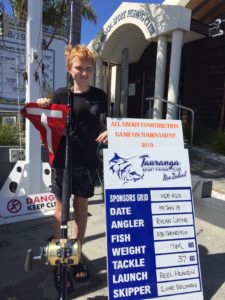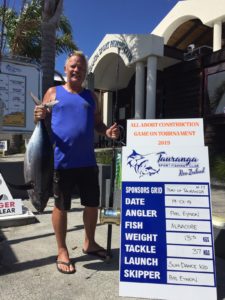 With early season striped marlin, blue marlin and spearfish all lodged firmly in this year's fish catch it was clear the start to the season was well ahead of schedule leading up to this year's Game On Tournament.  So with the Clubs foyer chocka full of catch boards and teams brimming with optimism about the three days ahead, it was little wonder the ensuing Calcutta auction raised a good deal of cash, in fact over $10,000!
The Calcutta cash could only be won by the successful bidders who had won the boats who would accumulated the most billfish points.  First place would claim 65% of the purse, second place 15% and 3rd 10%, with 10% going to the Club. To explain the Calcutta briefly, Billfish points could be accumulated in two ways.  Weighing a fish; where by the fishes weight is times by 100 and then divided by the line weight.  The second way is to release a tagged billfish (blue/black sword or striped marlin) all worth 400 points irrespective of size, with a tagged s/b spearfish also worth 150 points.
This year we had a few new faces involved in event! A big thank you must go to Alistair Beer for his silky smooth auctioneering skills and of course to all of those anglers new and returning that got involved in the bidding.  It was also nice to welcome Burger Fuel on board who were flat our marketing and giving away their catch of the day burgers!
Now the $10k Calcutta sum clearly provides more than enough incentive for teams to fish hard and that's what was going to be needed as the weather forecast had again looked to play some dirty tricks.
Stronger winds than expected made for challenging fishing conditions on the first day (Friday) but a hot bite and plenty of action on the water more than made up for the weather.  As forecast Saturday delivered really nice conditions but the action slowed to snail pace, then Sunday the wind came up again and the fishing seemed to deteriorate with few opportunities for those boats out braving the windy SW conditions.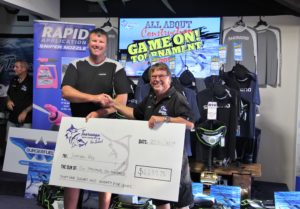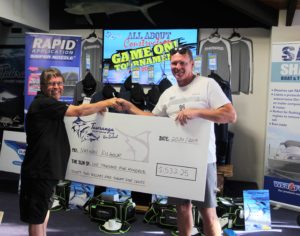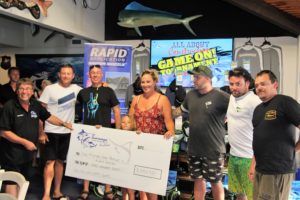 Regardless of our weather woes the comp in the end did see some very nice fish caught (and lost).  Most notably the team of Andros's landing a nice blue marlin 191kg, all of this to first time angler Carl Shannon.  Good to see the new engine is pulling the fish guys!  A beautiful Big Eye Tuna of 72.6kg to the First Class team and again this was a first time angler Amanda Thompson responsible for this superb effort.  The team on Ocean Pacific never far from the action picked up second place tuna with a fine 17.04kg Albacore, and after two years of hard luck stories the team on Erice Marie showed there not just here to make up the numbers securing a nice stripey to take first place in this section. The s/b spearfish section was won by Deryk Nielsen fishing on Black Label, while two others were tagged by teams chasing the calcutta points.
It is always nice to see plenty of fish being released and this was the case again this year with Free Flo, Riba, Happy Hour, Kyrenia all tagging marlin this year.  In the Calcutta results the decision to tag fish paid big dividends for the team on Kyrenia this year who managed to edge out Andros for first place, and a three way tie for third between Freeflo, Happy Hour and Riba all splitting the Calcutta prize pool of over $10k.
Well done to all of our anglers who were looking a little battle worn on Sunday, it was awesome having you all back at the Club enjoying the hospitality, spot prizes and relaxing! Of course another big shout out to our amazing sponsors All About Construction, Wet & Forget, Burger Fuel, NZ Bayfisher Mag, Glass Art and Shimano.  Double thumbs UP !!!