STONEY CREEK ONE BASE 4-7th March 2020
March 4, 2019

-

March 7, 2020
STONEY CREEK ONE BASE  Wed 4th – Sat 7th March 2020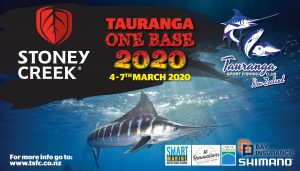 PLEASE NOTE :

FRIDAY 6th MARCH – Stoney Creek One Base 2020  – FRIDAY – Please note conditions are at the upper limits of our acceptable range.

Fishing is ON  today

and under a WEATHER CAUTION with vessels fishing west of White Island requiring to assess conditions for suitability of craft and crew. (Skippers responsibility) Please check in with VHF Ch3 Tauranga Game Base and log trip reports with Coastguard. 
For the latest photos and videos please check our Facebook Page!
We are very lucky to have both STONEY CREEK and BAY INSURANCE BROKERS and the PORT OF TAURANGA back on board this years One Base. Welcome Smart Marine and A1 Renovations!  Loads and loads of prizes and live music from KAOS for the prize giving.
A couple of changes this year after surveys finding that there was majority support for a change to Random Access. This has the end effect we hope of improving safety in the event allowing smaller craft to fish in less extreme conditions and return safely to the safest haven available.  These teams will be expected to be at the Club with the entire team for check in prior to the start of the event.  As well as this any fish to be returned to the weigh station must also follow the 24hr rule as well as bring the boat, fishing equipment and entire team involved in the capture of the fish.
Teams must be finalised and paid by close of business 25th Feb 2020. After this time there will be no additions and no refunds. Only changing the name of an angler for another will be accepted after this point.
WILD CARD ENTRIES
For 2020 we are pleased to announce the addition of another 20 teams. These teams will be randomly drawn at the Wild Card Draw evening 6.30pm on the 13th February at the TSFC.  Only teams on the waiting list are eligible to be drawn. The named captain or appointed representative must be in attendance. A Wild Card draw entry is only for the current years One Base, after which they resume the position back on the Waiting List. If you want to have your boat in the One Base you must be on the Waiting List. So please contact our office.